1957 Chevy–A Crown Jewel for Any Collection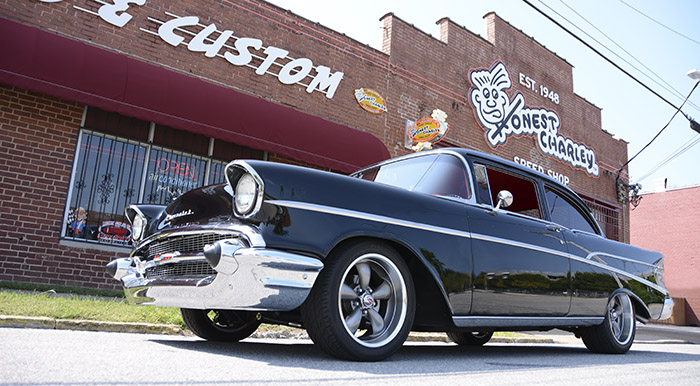 Our great friend, Mark Chitwood came by the shop in his shiny new '57 Chevy. He recently purchased the car and plans to put lots of miles on it in the coming months. Mark is the owner of Southern Gold, a jewelry sales and repair business right here in Chattanooga. The '57 Chevy is a 210 model, which means it has a few less trim pieces than the Bel Air models. Less trim means more room for the super slick black paint job to be displayed…and it is SLICK!

The car is outfitted with a clean and simple 350ci small block with Vintage Air A/C, and it's backed by a 700R-4 overdrive transmission. The car is lowered a few inches and rolls on a set of 17-inch five-spoke wheels. Inside, bright red leather wraps most of the components, while a Classic Instruments gauge panel and Ididit steering column provides a good mix of modern and classic details. Mark also informed us that his slick Chevy is equipped with a 2,400-watt stereo system…wow! It's a great car, and we're sure that Mark will take great care of it. We're just glad he brought it by the shop to show it off!