Hot Rod Feature: "Double Exposure" 1932 Ford Roadster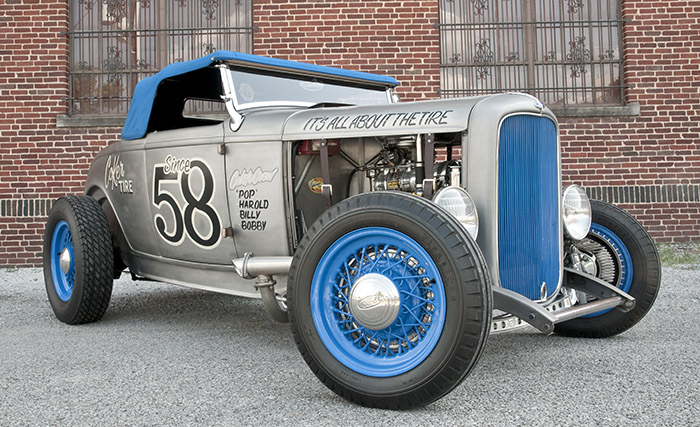 You may have seen it around at various car shows across the country (and it's even been to Australia)–it's the Double Exposure roadster, built right here at Honest Charley in 30 days, using ONLY off-the-shelf parts from Honest Charley and Coker Tire. It's a great car, and though it has been built for a few years, it still gets lots of "exposure" wherever it goes. Keep reading to find out more about this famous hot rod.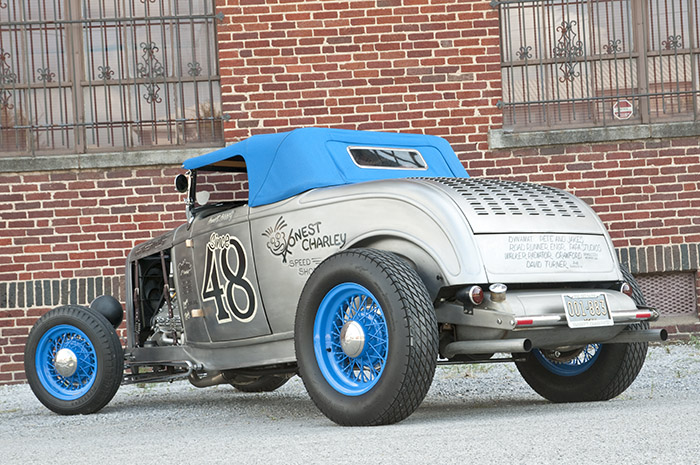 So, how did it get its name? "Double Exposure" got its name because it has two personalities. The driver side, is the Honest Charley side, featuring a "48" door number, and a few other small details, while the passenger side is the Coker Tire side, featuring a "58" door number. The numbers designate the years that each company was founded, while the other hand-lettered details pay tribute to the history of each company.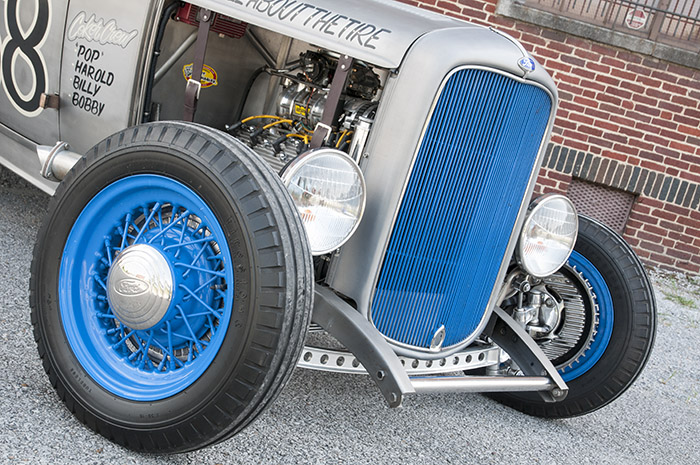 The Double Exposure Deuce rides on a Pete & Jake's chassis, which features boxed frame rails, extra bracing, and suspension mounting points for a modern hot rod build. Up front is an aluminum Super Bell axle that features a four-inch drop, chrome-plated hairpin radius rods and a Posies front leaf spring. Pete & Jake's finned brake covers hide a set of Wilwood disc brakes, while a Vega steering box is tucked out of harm's way on the frame rail. Rear suspension consists of a simple ladder bar configuration, outfitted with a Posies leaf spring, and attached to a Ford 9-inch rear end.


Rolling stock was the responsibility of Corky Coker and his Coker Tire crew. The car originally rolled on a set of 15-inch wheels and Dirt Track tires, but now features a fresh combination–16×4.5-inch Hot Rod Wire Wheels wrapped in 5.00-16 Firestone Dirt Track tires up front and 18×4.5-inch Hot Rod Wire Wheels wrapped in 8.20-18 Firestone Dirt Track tires out back. This big-n-little, tall-n-skinny look is perfect for the bare metal hot rod. The wheels feature a "Coker Blue" hue, which matches the grille insert and Time Machines Unlimited Rod Top.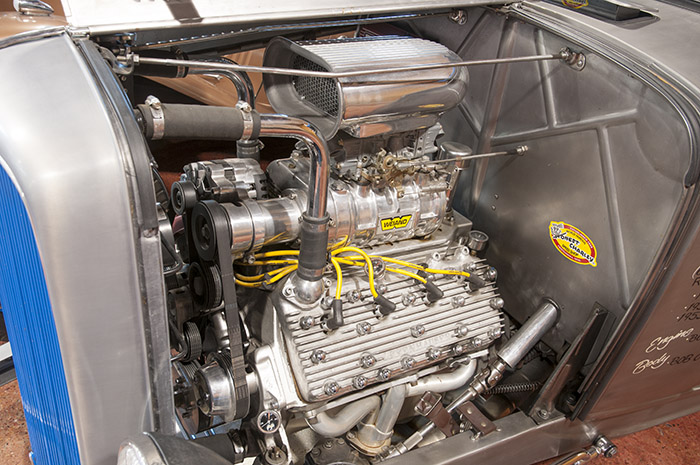 For horsepower, the Double Exposure relies on an 8BA Flathead Ford V8, assembled by Joe Abbin and Gary McGlasson of McGlasson Racing Engines in Albuquerque, New Mexico. The rotating assembly consists of a Scat forged crankshaft, Eagle connecting rods and Ross forged pistons, while a set of Offenhauser aluminum heads caps off the Flathead block. Atop the engine is a Weiand supercharger, which breathes in plenty of fuel and air from a Holley carburetor. A Mallory ignition lights the fire, while a Walker radiator keeps the rowdy Flathead at a reasonable temperature. A T5 five-speed manual transmission is mated to the Flathead with one of our transmission adapter kits. You won't find any mufflers on this car, and you can bet it wakes the neighbors on a cold morning–crisp, raspy and loud–that's the way we like it.
Aesthetically, the car has a very distinct look with it's bare metal body and chassis. This shows off the brand new steel Brookville body, which is just too cool to cover up with paint. The hand-lettering was performed by Papa Studios and gives the roadster a lot of old school racing personality. A Rootlieb louvered hood and a Brookville louvered deck lid complete the package, while a two-inch chopped windshield frame provides the hunkered down hot rod look.
Inside, it's bare bones, but it's comfortable, all things considered. Jerry Crawford covered the Glide Engineering seat, but the rest of the interior is very basic. Dynamat helps tone down the drone from the loud Flathead engine, but you won't find any carpet in this no-frills roadster.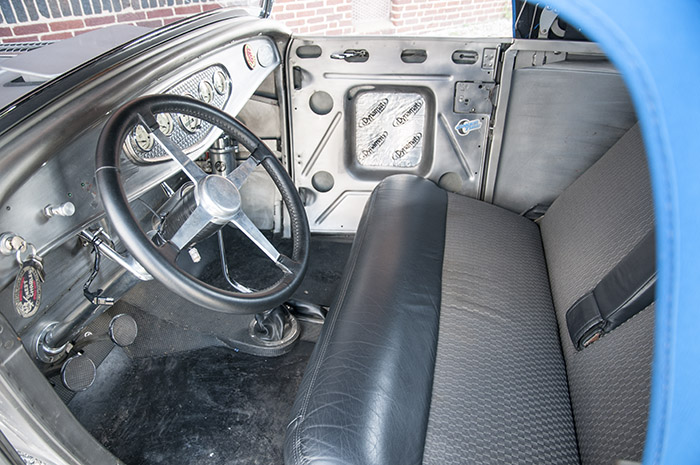 After a 30-day build at Honest Charley, the car was driven to the SEMA Show in Las Vegas. The car was a huge hit, as it arrived with the "Posies' Driven Dirty Tour", fresh off the road. It has since logged many thousands of miles on all sorts of terrain, and it's one of the most recognizable cars in the Coker Tire Museum. It's an awesome hot rod and it was built right here in Chattanooga, using parts from our shelves. It don't get much cooler than that! {{products}}