Mike Wolfe's 1933 Ford Hot Rod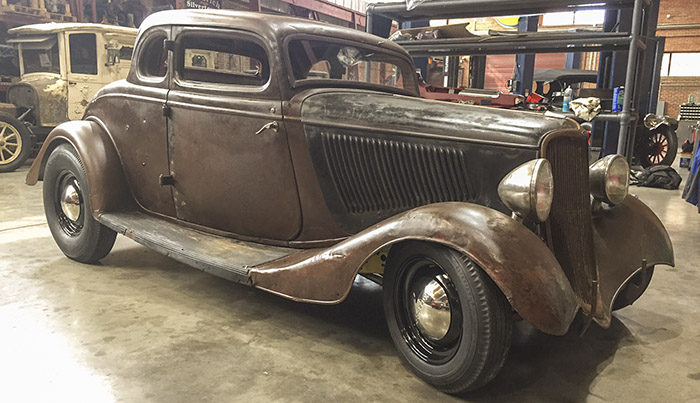 If you watch the American Pickers TV show on the History Channel, then you know that Mike Wolfe loves old motorcycles, bicycles and memorabilia. Through the years, he has tested the waters with a few hot rod projects, including a very cool Ford panel truck, and the car pictured here–a crusty 1933 Ford five-window coupe. The car has been a hot rod for lots of years, as evidenced by the parts that are in place, but a few major changes were made after Mike purchased the car on American Pickers. First, he had the top chopped a few inches to give it a menacing look, and he also had some of the structural rust repaired. Mike wanted the car to be road-worthy but he didn't want to disrupt the character of the car in the process.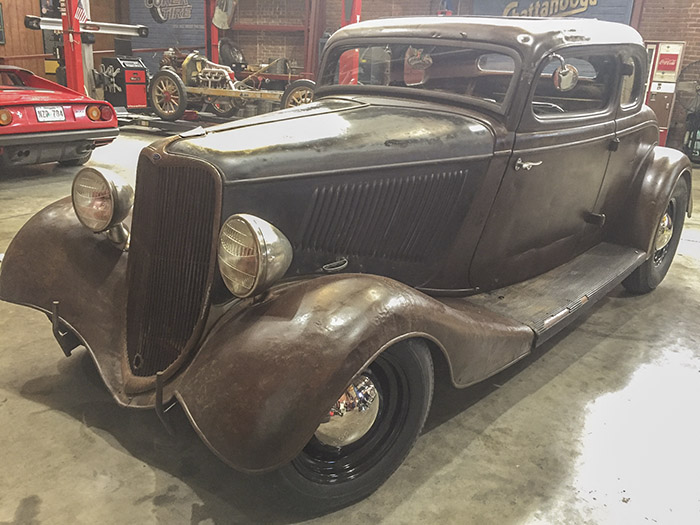 After it arrived in Chattanooga, Tennessee, we immediately swapped the rolling stock for a set of Firestone Deluxe Champion tires (5.60-15 front tires and 7.50-16 rear tires) mounted to Hot Rod Steel wheels. The rubber rake gave the car a new attitude, while items like a new electric cooling fan and shroud assembly, new fuel lines and a little bit of ignition work on the Flathead V8 engine. The 24-stud Flathead already had a set of super cool cylinder heads on it, that we're going to call "mystery heads". They're either no-name cylinder heads, or someone spent a lot of time filing all of the casting marks off and polishing them. Either way, it's a cool piece, and it has an old school Edelbrock 2×2 intake with dual Stromberg 97 carburetors. Our kind of stuff!! Take a quick look at Mike Wolfe's chopped coupe, and see how he took an old school hot rod and made it even cooler with Honest Charley parts and service.