A Cool Model A Coupe that's Worth Writing Home About!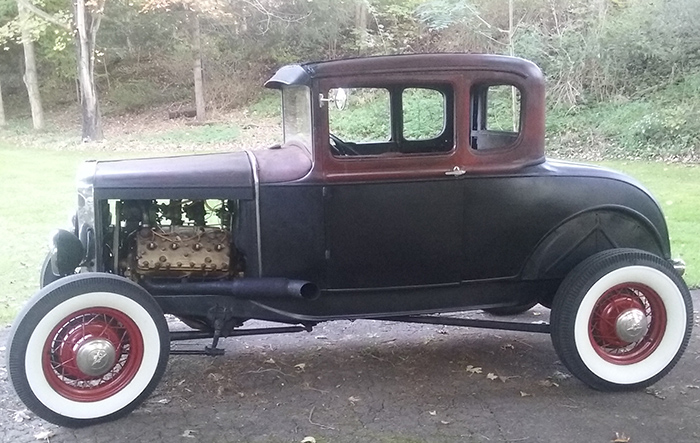 Honest Charley carries a wide range of hot rod parts and we greatly enjoy seeing our parts on the road and the passion of our customers! Take John Borek's 1930 Model A for example. This Model A has had a ton of work done to it over the years by John and his 7 year old daughter. John bought this at an estate auction from a long-time car collector about six years ago for 500 bucks! This Model A had a ton of damage and most people would have kept looking but John decided to take on this great project. " I started replacing all the damaged and rusted sections with lots of patch panels and a lot of fabricating" he said. Once he got the body somewhat solid, he braced it and removed the body off the frame.

John then picked up a pair of new American Stamping 1932 Ford frame rails from Honest Charley and used a drop front Model A cross member. The rear cross member is a stock Model A. The motor is a 1953 Mercury 255 Flathead V8 with updated speed parts from Honest Charley. The rear axle is a 1942 Ford truck open drive banjo. "At that point the car was rolling so I moved it to storage for a year so I could concentrate on finishing another project (52 f-1 pickup)" John says. When the time came he brought it back home to finish work on it but then was hit with illness which put him down for a good while and he thought about selling his Model A project. Luckily before he sold it, his 7 year old daughter told him she wants to fix it for herself to drive when she gets older! After hearing this John couldn't part with it and started teaching her how to work on it. Together they got this project on the road with plans to do more work.