Street Rodder Road Tour–The Beginning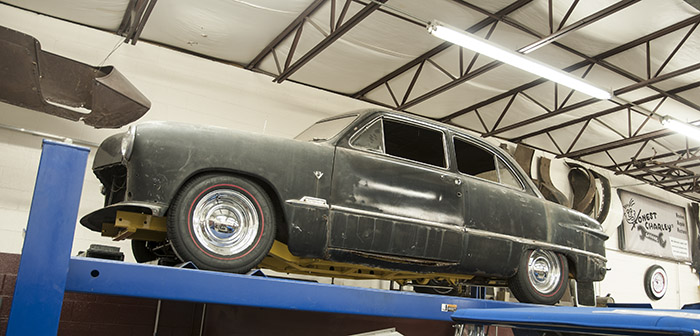 If you follow our blog, you saw our introduction to the Street Rodder Road Tour project car. Now, it's time to get down and dirty with the reality of a very intense project with a tight deadline. In previous Road Tour builds, other shops have gotten the luxury of beginning with fresh sheet metal. For example, last year's build consisted of a brand new '40 Ford body. And even though the guys at Hollywood Hot Rods did an amazing job on the build, they definitely got a head start by using a brand new body. The beauty in this year's '51 Ford Custom is we'll be able to really flex our muscles when it comes to metal fabrication, and this thing needs lots of it.

Even if we had started with a cherry '51 Ford body, the build plan involves a chopped top, nosed hood and many other modifications, so we have our hands full with the fabrication aspect of the car. Luckily, our guys are prepared for battle, armed with a truck load of Miller and Eastwood equipment. Take a look at what we're starting with, and stay tuned for weekly updates (every Friday morning). This thing is going to be killer, and we'll walk you through some of the stuff you might not see in the magazine. By the way, the build began in the March 2013 issue of Street Rodder magazine, and will continue to have monthly articles.