Street Rodder Road Tour–New Metal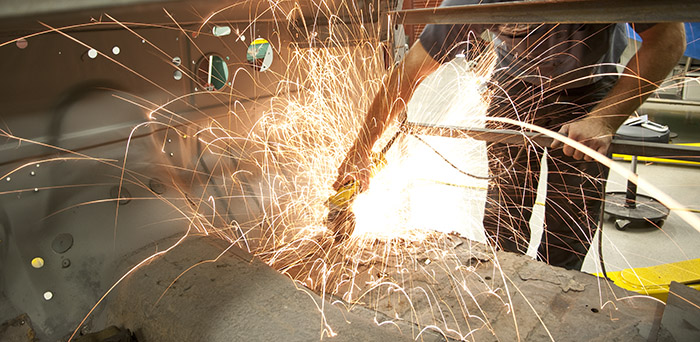 So, if you've been following along, you know that we're up to our ears in rust with this '51 Ford. Luckily, Dennis Carpenter offers replacement panels, but we'll still have to fill some gaps with hand-fabricated patch panels. The first step in making this shoebox Ford solid is installing new floor pans and rocker panels.

The new pans and rocker panels give the body a lot more rigidity, but we have plenty of bracing inside the body to keep it from flexing while all of the sheet metal is gutted out. The new panels fit well, but required a great deal of finesse to get them perfect. We used a Millermatic 211 Auto-Set MIG welder for the floor pans and rockers, and it worked out great, even with the somewhat crusty steel left behind on our '51 Ford project. After lots of careful measuring and massaging, we tack-welded the panels and then finished the welding chores with the MIG. We left a few areas tacked, because we have plans to do a couple modifications to the body mounts, as well as a custom transmission tunnel. We'll cover that stuff next time. For now, let's take a look at some new sheet metal!