Visitors from Canada, eh….again? In the same day?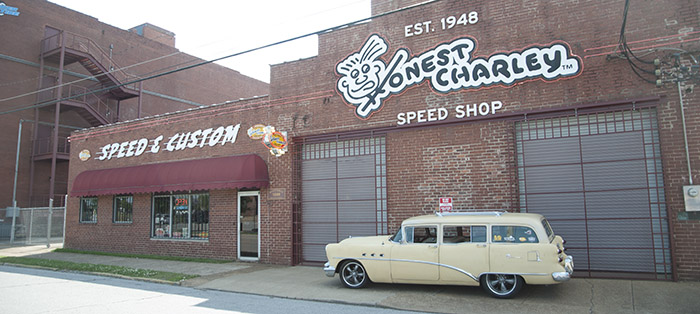 Yep, we had two totally separate visitors from Canada on the SAME DAY! Toward the end of the day, Tom Sorenson and his son, Skylar rolled into Chattanooga, Tennessee in this awesome '54 Buick Special station wagon. These guys are dedicated hot rodders, all the way from Thunder Bay, Ontario, Canada. They actually flew down to Bremen, Georgia to pick up the car, which they purchased online. The plan is to drive back, visiting various hot rod stops along the way. Tom said that Honest Charley Speed Shop was a no-brainer, because he remembers all of the old magazine ads and catalogs from back in the day.
The Buick wagon features a few suspension goodies, and rides on a set of Coys five spoke wheels. Power comes from a big block Chevy, backed by a TH400 transmission. Tom said that Corky Coker is to blame for this particular purchase, because he first saw the car on Hot Rod TV, when Corky couldn't strike up a deal on it and passed on it. He wanted the car badly, but didn't know how to contact the owner. Out of pure luck, he found the car for sale online a few months later, and made a deal to fly down and drive the car back to his native land of Canada, eh.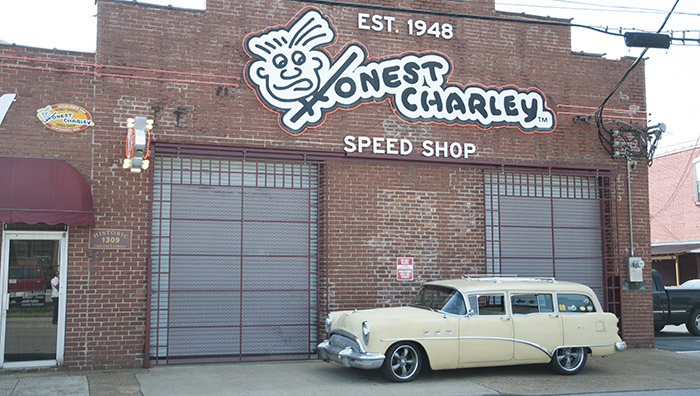 The Sorenson's didn't leave the shop empty-handed, so they have some good ol' fashioned Honest Charley souvenirs for their shop. We appreciate them making Honest Charley one of their specific stops along the way, and we wish them the best of luck on the rest of the trip!