T-Buckets Come to Honest Charley!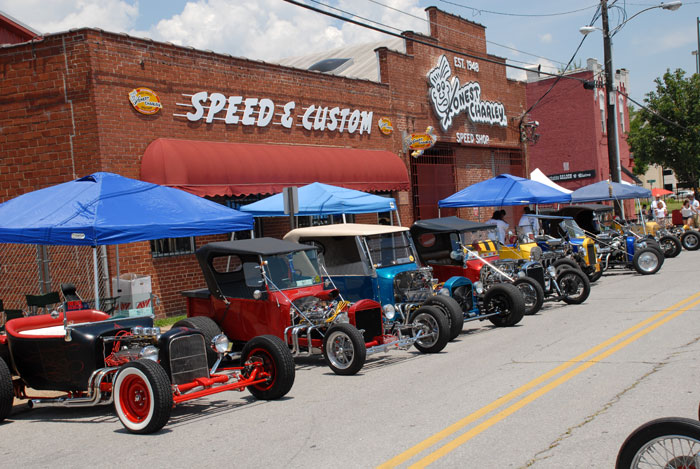 Honest Charley Speed Shop is known for its deep roots in the hot rodding industry, and T-Buckets have been a big part of the scene for many years. In fact, Mike Goodman (Honest Mike) built a T-Bucket in the '70s and drove it all over the United States. Now, the National T-Bucket Alliance is bringing its yearly gathering to Chattanooga, Tennessee! The main part of the event is the big car show on Saturday, June 23rd. It's held right here on the streets surrounding Honest Charley!
Valued Honest Charley customer J.R. Fitch is a member of the National T-Bucket Alliance, and was a huge factor in bringing the T-Bucket Nationals to Chattanooga. Their big event on Saturday, June 23rd will be similar to our cruise in events, as we will shut down Chestnut Street, as well as other surrounding streets. They're expecting 300 T-Buckets to attend the car show, but J.R. has invited ANY and ALL cars to join in on the fun. So, the big car show on the 23rd will be open, just like our regular cruise in events! Bring your car, truck or motorcycle for an awesome time right here in the scenic city!
This event will see coverage in national magazines, and you'll see hundreds of T-Bucket's on the streets, but the car show is open to ALL VEHICLES, so bring your hot rod or muscle car!!! The show starts at 9:30 am and lasts until 3:00pm, and will feature an open car show, as well as "valve cover races". Awards will be presented at 3:30pm and will be followed by a Dinner River Cruise for T-Bucket owners who are interested.
While in Chattanooga, the National T-Bucket Alliance will be traveling to several local destinations, such as the Jack Daniels Distillery, as well as the Tail of the Dragon and Lookout Mountain. It's a week-long experience, starting on Sunday, June 17th, and wrapping up on the 23rd with a huge shin dig right here at Honest Charley Speed Shop!
Find more information HERE!