Barn Find Report: 1956 Chevy 210 Two-Door Post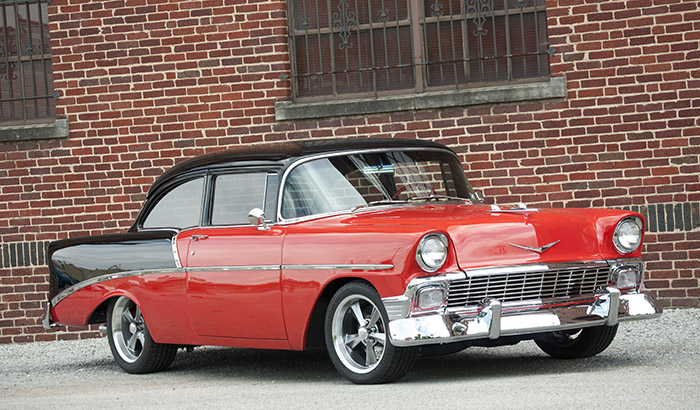 Ahh yes, a bad to the bone '56 Chevy. Some people call it a shoebox, some people call it a Tri-Five…we just call it cool! We found this one on our adventures with the Backroad Gold TV show, which airs Wednesday nights at 9:30 Eastern on the Travel Channel. The car looked to be in good shape, but the deeper we dug, the more problems we found. By the time it was all said and done, we essentially started from scratch on this build. Despite the many hours of thrashing on this classic Chevy, we love the custom look, with a lowered stance, modern wheels and traditionally detailed engine bay. See how it all came together right here!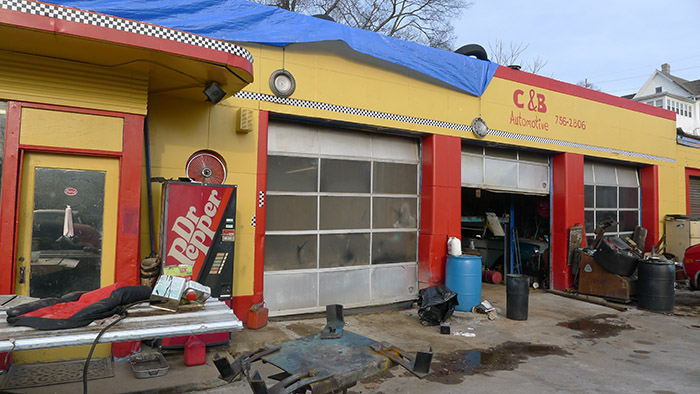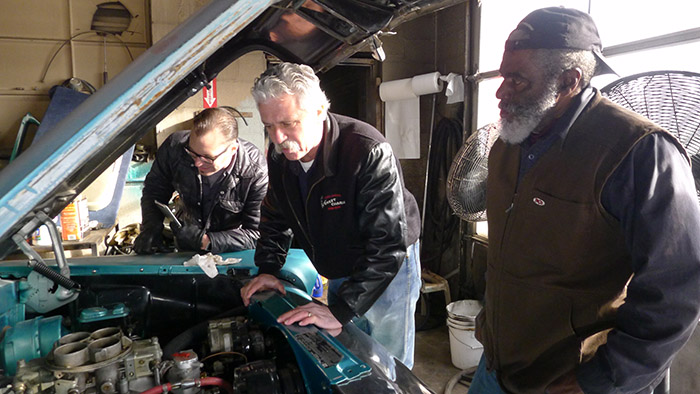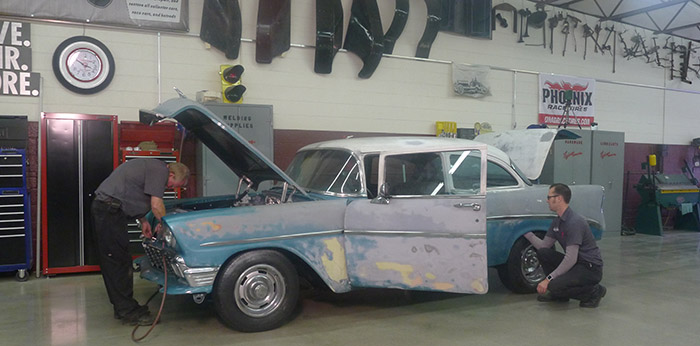 We bought the '56 from a fellow here in Chattanooga, who had tinkered around with it for a while. He had intentions of modifying the car and giving it a big block power plant, as well as many other custom touches. His intentions didn't exactly align with our vision for the car, so when we began the rebuilding process, we undid a lot of his doings, and started from square one. For instance, his big block installation involved a huge single plane intake manifold topped with a Holley Dominator carburetor…while that stuff is cool, it just isn't practical for the street. We'll sell some of the parts or re use them on other project to re-coop some of the money invested.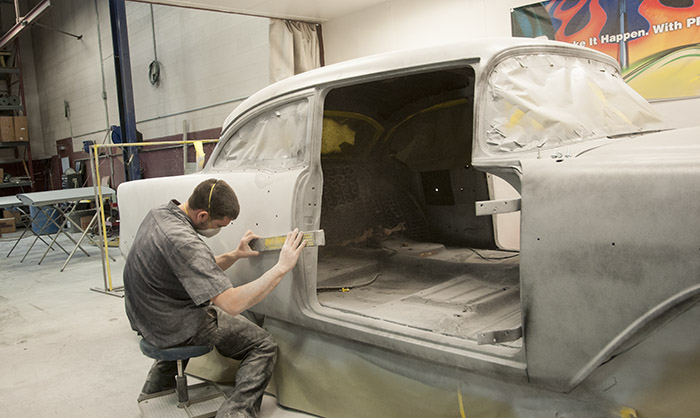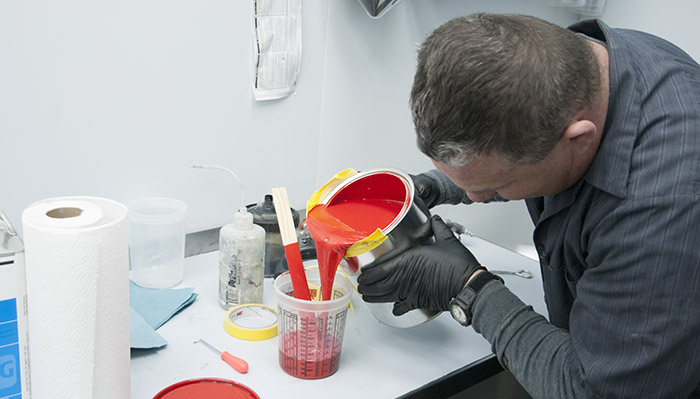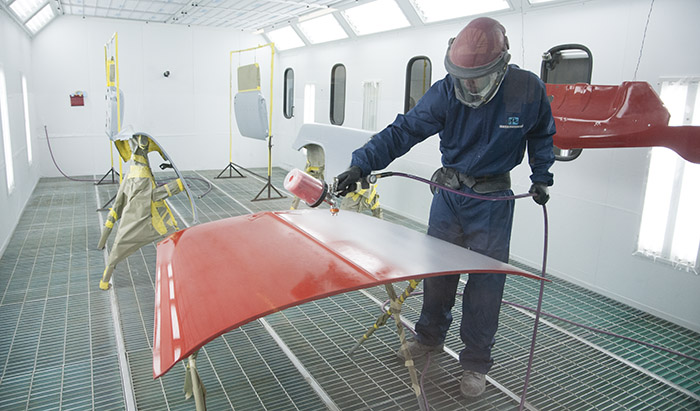 Underneath, we gave the '56 Chevy chassis a lot of attention. To allow for more tire and wheel clearance, we moved the leaf springs inward, which required notching the frame rails and fabricating new spring hangers. Then, we bolted up a Ford 9-inch rear end, using three inch lowering blocks to get the stance where we wanted it. Up front, we took a similar approach, by installing drop spindles to level out the ride height. All four corners rely on Baer disc brakes for stopping power–the fronts feature drilled and slotted rotors with six piston calipers, while the rears are also drilled and slotted, with four-piston calipers.

In addition to the big brakes, this '56 Chevy got a major update in styling, thanks to a set of 17×7- and 17×8-inch Rocket Booster wheels, which are done up in Rocket's special Hyper Shot finish. The five spoke wheels are wrapped in BFGoodrich g-Force T/A tires, sized at 235/45ZR17 and 255/45ZR17.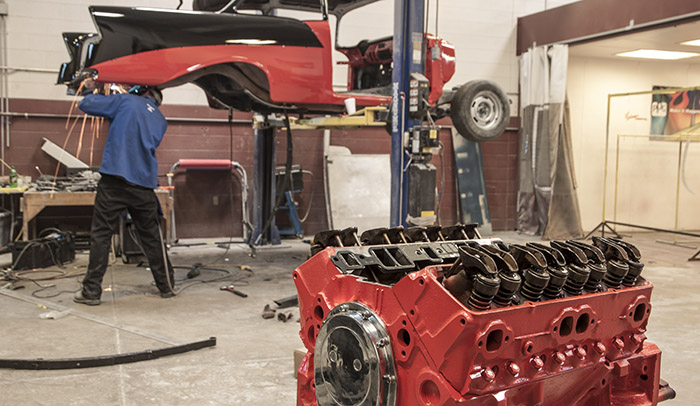 Under the hood is a mild 350ci small block Chevy engine. The big block would've added a bit of wow factor to this build, but the fact of the matter is our small block makes just as much power as the big block and certainly helps with fuel mileage and overall highway manners. Behind the 350 is a Richmond four-speed manual transmission, which is a bullet proof gear box, ready for some serious abuse.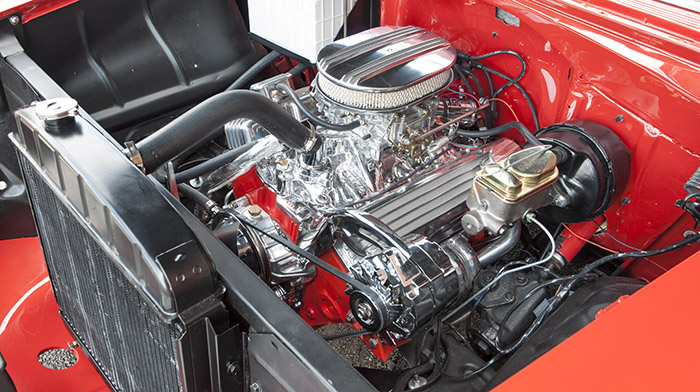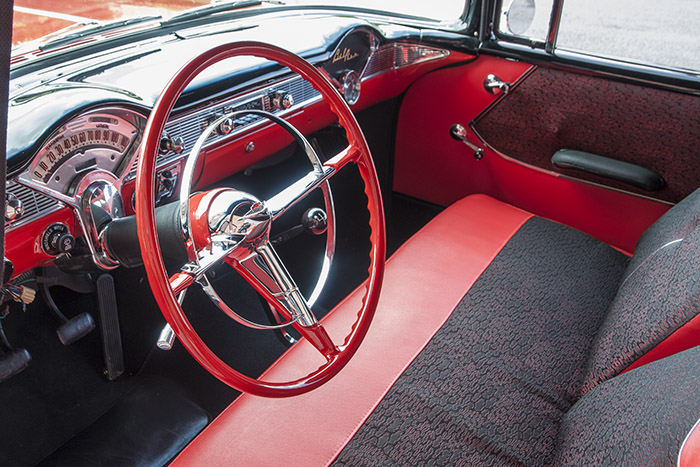 Aesthetically, the '56 is mostly stock. The body is very close to original, with all of the original trim pieces that create the 210 model. We sourced all of the restoration parts for the exterior from our buddies at Year One in Braselton, Georgia. The interior is also a stock reproduction interior kit from Year One. Overall, this '56 transformed from one man's project to a custom creation with lots of traditional and contemporary styling elements. Now that this classic Chevy is back on the road, it's time to get out and drive…any bets on how long the rear tires will last???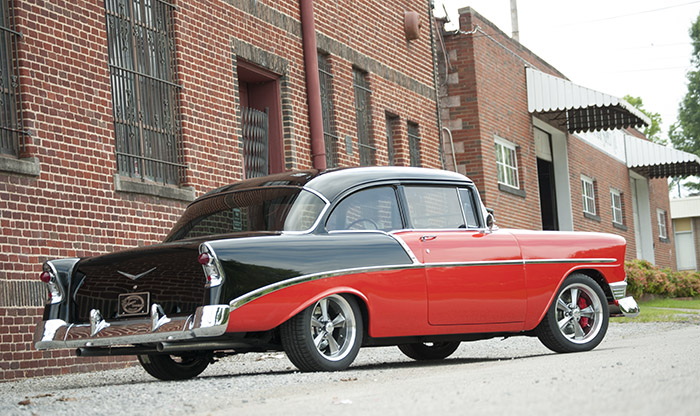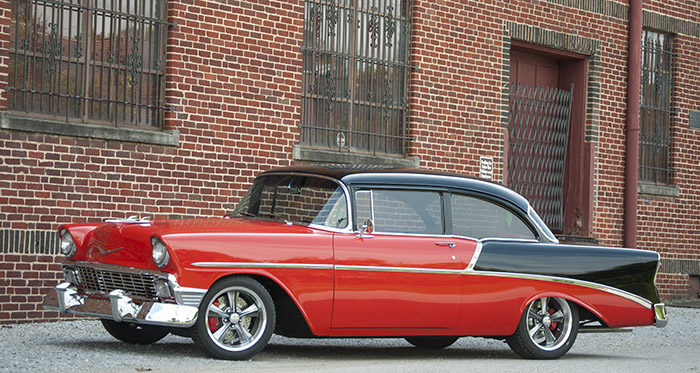 {{products}}