Barn Find Report: 1959 Ford Thunderbird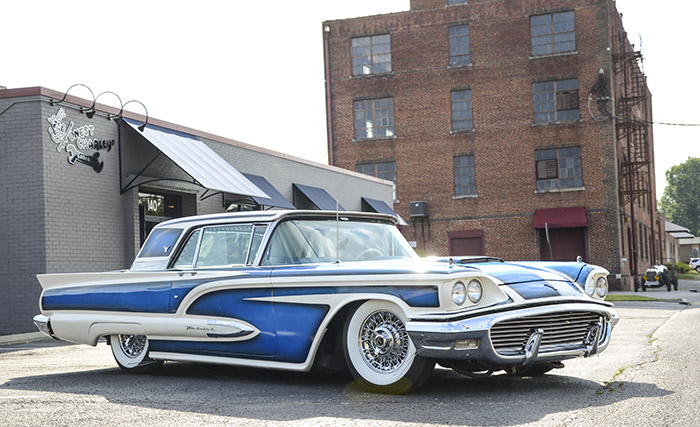 With the filming of our TV Show, Backroad Gold (it airs Wednesdays at 9:30pm EST on the Travel Channel) we've been introduced to a bunch of great barn finds. In the case of this 1959 Thunderbird, it was more of a junkyard dog than a barn find, but we're glad we found it! Otherwise this classic Thunderbird would've spent a tough life in the junkyard and it may have even been crushed. We took a half-way restored 'Bird and turned it into a wild '60s custom…keep reading to see how we did it.
The Thunderbird had received some attention in the past few years, as we could tell the white paint job was fairly fresh. We did our best to feel around and make sure the previous owner had not covered up a bunch of rust with body filler, but there is only so much you can do when you're in the moment. It's always a gamble, and sometimes you just have to go for it.
In this case, all the car really needed was some personality. The plain white exterior just didn't jump out and grab you so we decided to do a wild scalloped paint job with lace and metal flake to give this car a '60s custom look. Combine the crazy paint job with a slammed stance, and a set of Coker Classic H78-15 whitewall tires and Thunderbird Wire Wheels and you have the perfect combination for an eye-catching custom. Inside, we went back to stock, as Thunderbirds usually had a wild interior from day one. We kept the 352ci FE engine all original, just to keep things simple. The final product is a car that will get WAY more attention than a run-of-the-mill stock Thunderbird. It's just the way we like it and we're glad it made it out of the junkyard safely!