A Hot Rodder's Guide to Wheel Bolt Pattern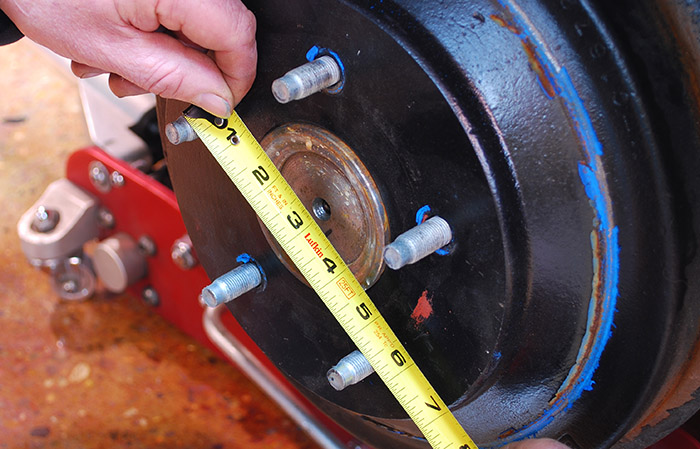 Have you ever bought a project car or even a completed car that was the brainchild of another hot rodder? Sometimes, you never know what type of suspension or brakes are used in a project car, but it's pretty common to have mis-matched bolt patterns. For instance, it's common to use a Camaro or Nova subframe and front suspension, which features a small five lug GM pattern, measuring 4-3/4 inches. And let's say they robbed a Ford 9-inch out of an old F-100 pickup, and it still had the stock five lug bolt pattern, which measures 5-1/2 inches. If you're unsure about your bolt pattern and you're on the hunt for a new set of wheels, be sure to measure before you start scouring the swap meet or the Coker Tire catalog for new rollers. Keep reading to find out more.


In most cases, American automobile manufacturers used a five lug bolt pattern, starting in the late '20s. The five lug pattern remains a common trait for passenger cars and light trucks, even in modern automobile manufacturing, but every company has a different approach. For instance, General Motors had two common bolt patterns, 5×4-3/4-inch and 5×5-inch. The smaller pattern is extremely common, as Camaro, Corvette, Chevelle and many more GM makes and models featured the 5×4-3/4-inch pattern. The larger pattern was used for light trucks, as well as many full size cars in the Buick, Oldsmobile and Pontiac lines.

On the Ford Motor Company side (including Mercury and Lincoln), it also comes down to two common five lug bolt patterns, 5×4-1/2 and 5×5-1/2, although Ford did produce a few passenger cars with 5×5-inch bolt pattern. The small pattern, again, was mainly used for mid-size and full size passenger cars starting in 1949, such as Fairlane, Galaxie, Torino and more, while the larger 5×5-1/2-inch pattern was used for light trucks. Also remember that the 5×5-1/2-inch pattern was common for early Fords, ranging from 1928 to 1948, with the exception of "wide 5" hubs, which were only available from 1936 to 1939. Wide 5 wheels are very easy to identify, because of the extremely large five lug bolt pattern–5×10-1/4 inches to be exact. Wide 5 wheels are pretty rare, and there are no reproductions of these wheels currently on the market.

Finally, we end this bolt pattern lesson with Mopar, which used 5×4-1/2-inch bolt patterns for many of its vehicles for quite some time. The only exception is the smaller 5×4-inch bolt pattern, which was used on smaller vehicles such as the Plymouth Valiant and Dodge Dart. One difference in a typical Mopar application is the center hole is typically smaller than that of a Ford wheel, even though the bolt pattern is the same. Also, it is important to note that many Mopar applications from the '60s and '70s had left-hand-thread and right-hand-thread lug nuts for each side of the car.

So, how do you measure the bolt pattern? It's easy. Grab a tape measure and measure from the outside of a wheel stud, to the center of the third wheel stud. See the illustration for an example, as it can be tricky, since there isn't a precise measuring point on a five-lug hub. Now that you've learned about wheel bolt patterns, put your knowledge to use the next time you visit a swap meet or order wheels from Coker.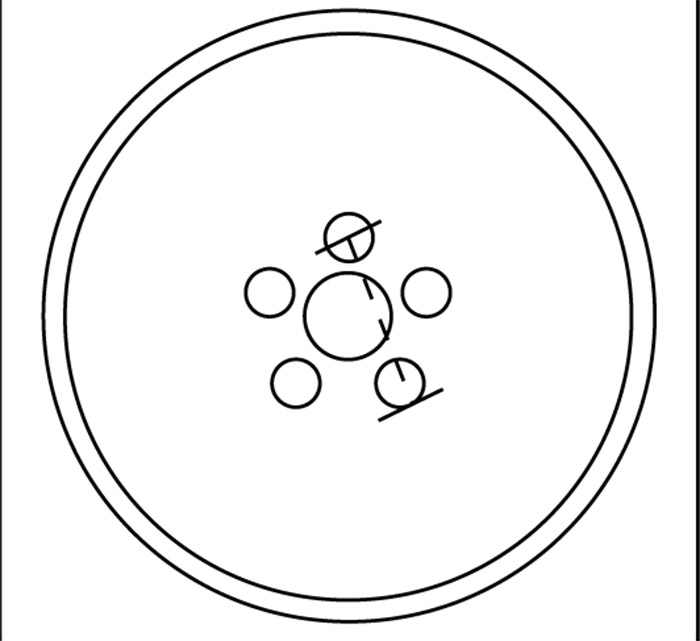 {{products}}