Street Rodder Road Tour–Going In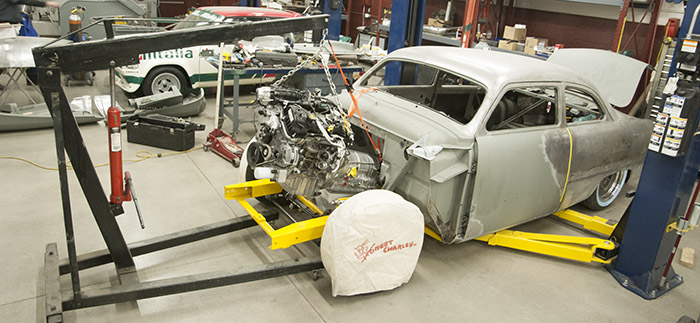 Last week, we told you about the high tech Ford EcoBoost engine and massive overdrive transmission. This week, we're gonna show you what it took to put this twin turbo V6 into the 1951 Ford engine bay. And believe us, it was more than simply welding some new mounts into place! Continue reading to find out how we did it!

The idea of putting this engine into a '50s classic presented a variety of challenges, but the first on the list was making enough room to actually mock up the engine and transmission. For this, we cut a big hole in the firewall and trim the floor pans. We fabricated a new recessed firewall, as well as a transmission tunnel after doing some studying on driveline angles and all that good stuff. Delton and Richard fabbed up some new engine mounts and relocated the transmission crossmember on the Fatman chassis. Then it was a matter of making the necessary adjustments to fit the exhaust piping and turbo piping. We have it all buttoned up and looking good, so check out a few pictures that show our progress. We can't wait to torture the rear tires!