Street Rodder Road Tour–Top Chop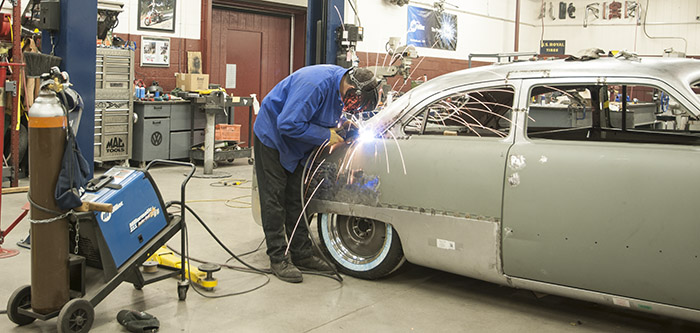 In typical hot rodder fashion, we took the only rust-free part of the 1951 Ford Street Rodder Road Tour car, and cut it all to pieces! We gladly broke out the sawzall and cut off wheels to whack a few inches out of the roof of this Shoebox Ford. It was no easy task, but we had lots of help from our trusty magazine guy and fellow hot rodder, Gerry Burger who has been a part of many chops over the years. Richard and Delton were certainly pleased to have an extra pair of eyes on this project.

The nature of chopping a top is fairly confusing because of the various cuts necessary, especially on a car with such a contoured roof. For instance, a Model A pickup or '32-34 Ford pickup are the easiest to chop because the posts are vertical and do not require any sort of major thought when it comes to making the posts line up. You just cut, and then weld it back…such is not the case with a Shoebox Ford. The leaned posts and rounded shape make for a challenging chop, but they look oh-so good when the right look is achieved. We're going to show you how we did it–the pictures make it look easy, but Richard and Delton spent approximately one week on this chop from start to finish. That includes the garnish moldings, stainless window trim, vent windows, etc. Check it out!