Street Rodder Road Tour–Horsepower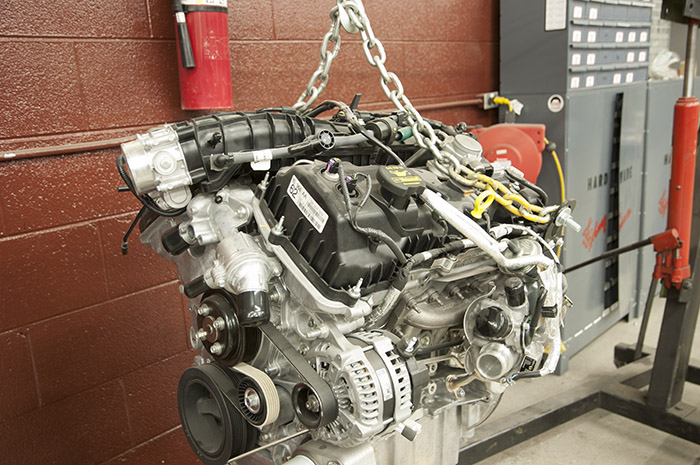 We're up to our eyeballs in '51 Ford parts, but one part that certainly is not 1951 vintage is the engine and transmission. We love old engines, so we probably would've picked a hopped up Flathead or maybe even a Ford Y-Block, but Street Rodder is the boss and worked with Ford Racing to figure out the power plant for the Road Tour car. Keep reading to find more details about the high tech engine that will be powering the 2013 Street Rodder Road Tour car.

Under the nosed and smoothed hood is a Ford EcoBoost V6 engine, which features twin turbochargers and lots of high tech stuff. This computerized, direct injected engine is definitely up with the times, so this car will hit the road and put down nearly 400 horsepower, while getting superb fuel mileage. The V6 comes in at 3.5 liters in displacement and features an aluminum block, and aluminum cylinder heads. It's a 60-degree design, and it's a real power house with lots of room to grow. Behind the twin turbo V6 is a Ford 6R80 automatic overdrive transmission.

With a compression ratio of 10:1, the EcoBoost engine feature twin Honeywell-Garrett GT15 turbochargers, which are tiny, but very efficient. These are plumbed into a custom air-to-air intercooler, which will cool the intake charge before it reaches the throttle body. The engine is equipped with dual overhead camshafts, and variable valve timing, which ramps in timing to increase power, and offer great fuel mileage. The final tally is 365 horsepower and 350 ft-lb of torque in stock form, but we're hoping to squeeze about 400 out of this one by using a FAST engine management system. We're expecting it to get about 25 miles per gallon!